Recommendations for preventing toxoplasmosis
To be followed in the absence of immunisation against toxoplasma.
Extraperitoneal caesarean section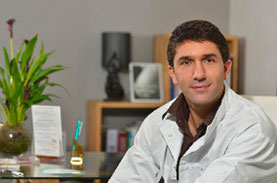 Dr. Velemir is one of the ten gynecologists-obstetricians to practice extraperitoneal caesarean section in France. The technique of extraperitoneal cesarean section is still unknown, almost confidential, it has great benefits for moms and their babies. With extraperitoneal caesarean section, the sequelae and the risk of complications are reduced.
Learn more about extraperitoneal caesarean section.
Hygiene tips for avoiding toxoplasmosis during pregnancy
Intended for pregnant women whose toxoplasmosis blood tests are negative (non-immunised pregnant women)
Toxoplasma is a parasite that is found in either:
the meat of contaminated warm-blooded animals (cattle, sheep and poultry…);
or, the soil or objects soiled by the excrement of infected animals, mainly cats. At least 60% of cats are, or have been, infected with toxoplasmosis and usually cats that hunt are more susceptible to the disease than domestic cats.
It is therefore essential to take some hygiene measures, that is to say:
In the kitchen:
wash your hands before preparing any meals;
wash hands after handling raw meat, and vegetables, fruit and herbs that have soil on them;
avoid touching your mouth or eyes when handling raw meat, or vegetables, fruit and herbs that have soil on them;
thoroughly wash all foods that have soil on them, especially if they are to be eaten raw (in particular, green salads and strawberries);
prevent flies or cockroaches from contaminating food.
When eating:
wash your hands before preparing any meals;
only eat frozen meat or cooked meat (that is, that has reached a temperature over 65° C throughout the thickness of the meat). This precaution should be followed for the meat of all warm-blooded animals (lamb, goat, pork, horse, beef, poultry): there should be no rare (American fillet steak, kebabs, barbequed lamb…) or raw (steak tartar or Carpaccio…) meat on your menu;
microwave cooking is insufficient to ensure the destruction of the parasite;
avoid eating raw eggs and raw milk;
avoid eating raw vegetables at restaurants.
In the garden:
avoid getting scratched by objects covered in soil;
wear gloves for working in the garden.
Animals:
avoid being scratched by cats;
avoid contact with cats;
do not give them raw meat;
avoid any contact with materials likely to be soiled by cat excrement (litter, sandbox…) ;
put litter boxes in the bathroom or on the balcony, but in no circumstances in the kitchen or near where you store food and kitchen objects;
wear gloves to remove faeces and change litter (or have it done by someone else), which should be done at regular intervals of less than 24 hours, as stools infected with parasitic eggs must remain in the open air for 24 hours to mature and be infectious;
disinfect litter box and objects soiled by cat faeces with boiling water for 5 minutes or with bleach;
Note: Remember that it is essential to have a monthly blood test for toxoplasmosis.